I haven't had a good steak in a while, so when S Prime contacted me to sample some of the stuff here, I jumped at the chance to participate. As a new restaurant in NYC, it's difficult to get press around restaurant launches when you're not one of the twenty chefs that Eater and Grubstreet cover on a weekly basis. I'm actually fleshing out a concept to help restaurants get more press with bloggers and get better photography taken of their food. Details to come in a future blog post!
So S Prime, residing in Astoria, they're outside the Manhattan high-end restaurant scene. Most of the people that follow the larger blogs been programmed to look at Queens for two things: cheap and ethnic. Of course, it's not just cheap and ethnic – theres some fine dining as well. A few of my favorite NYC dining experiences have happened in Queens. The Space:
They have a huge space. There's private dining for 70+ people upstairs. The kitchen just got built out for prep work (more on this in a moment). There's a really cool wine cellar setup in the back that I never got a great picture of even though I probably shot 70 photos of it. The Menu:
I just shot a part of it, but this is the important part. It's why you come to a steakhouse. Joel Reiss (executive chef) and I walked through the kitchen for some photos and he showed me the dry aging locker.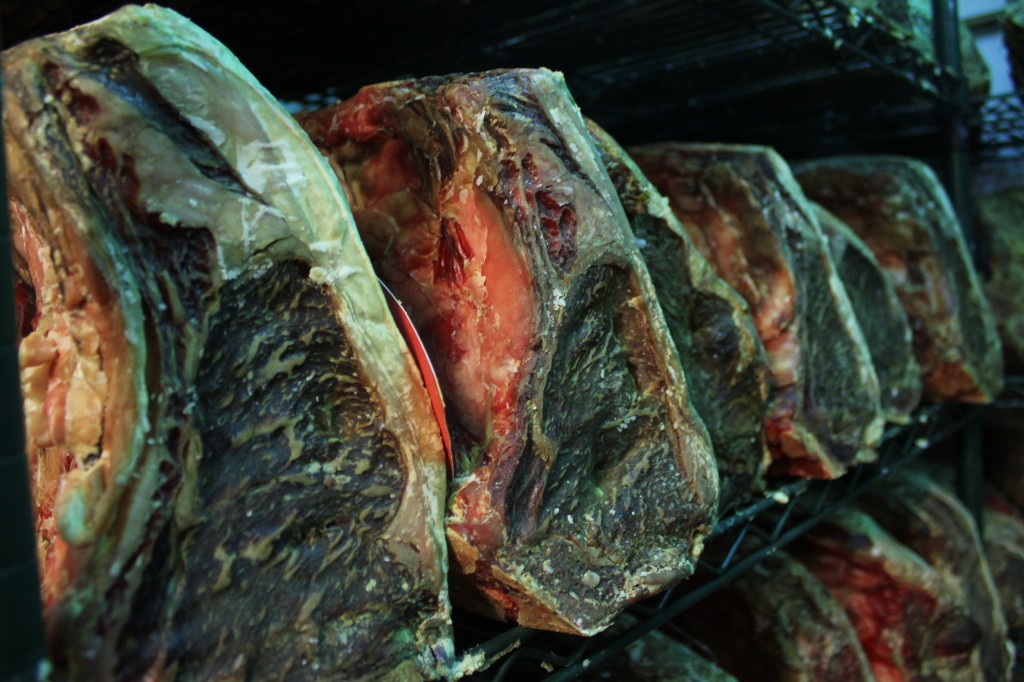 When Joel worked with David Burke, they sent their steaks to a laboratory in Canada to have the profiles analyzed for taste. The tests came back showing that there were traces of everything that was in the storage locker – the cardboard, the plastic shelving, the smell of the temperature-control unit – and they wanted to fix that. Joel makes sure they remove all of these variables and also adds to the flavor – one wall of the locker is made entirely of Himalayan Rock Salt. I was impressed at the care he took in the aging of the meat.
We start the meal with a Tuna Tartare: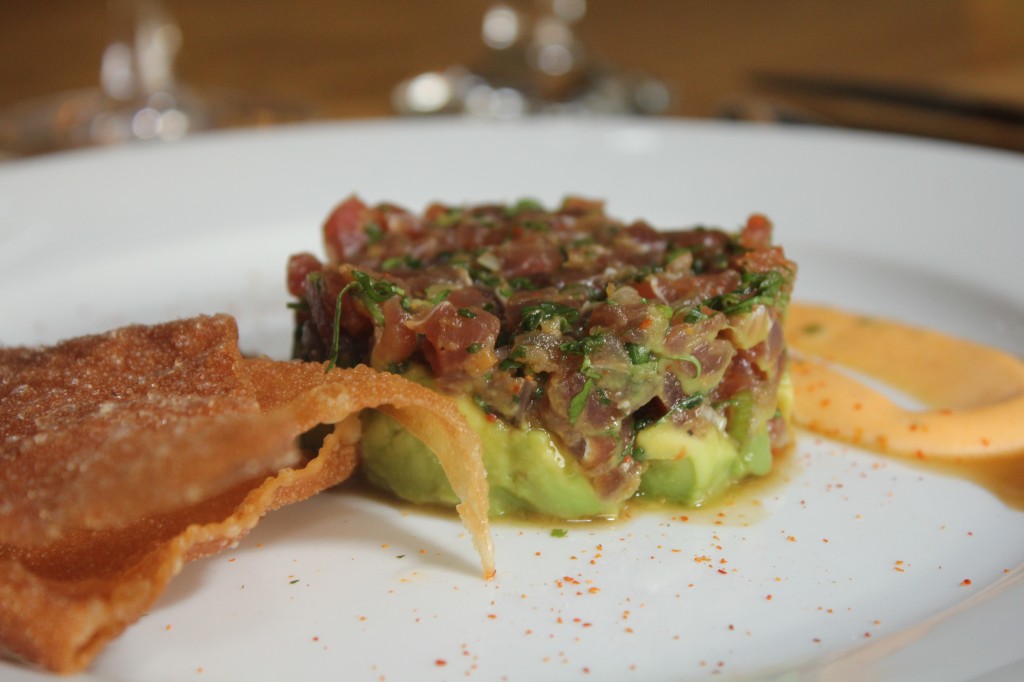 I ate the entire thing (and by this time, the entire spread was practically laid out for me). It's on a bed of avocado and served with SRIRACHA MAYONNAISE. I mean, come on. It's like he read my foodie profile. I always have Sriracha mayo on hand at home (goes great on eggs for breakfast). The crunchy things on the left are fried wonton chips. This was the perfect ratio of chips to tuna. Usually, you need either more chips or more tuna. It turns out this worked for me.
The second course was the Chopped Salad: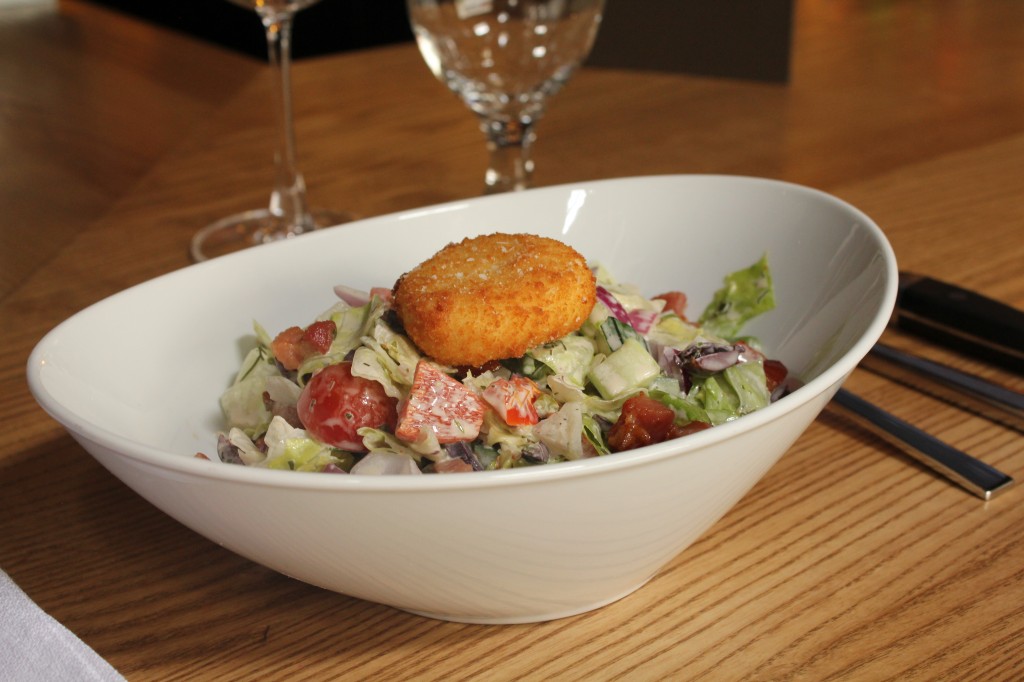 When you come to a steakhouse, you get the chopped salad. This one had heirloom cherry tomatoes (but it's seasonal, so your experience may vary), giant chunks of bacon, and what Joel called a "warmed goat cheese crouton." I was all over it and probably ate half this salad. It was the bartender's favorite. Like I said about the bacon, it was sincerely huge. I asked him if he was going to do bacon like Peter Luger's.
"No," he said, "If I do something, I'm going to do it my way. I'm not going to copy someone else's style to match some other menu."
This is well evidenced in the side of Lap Cheong Fried Rice that graces the appetizer menu: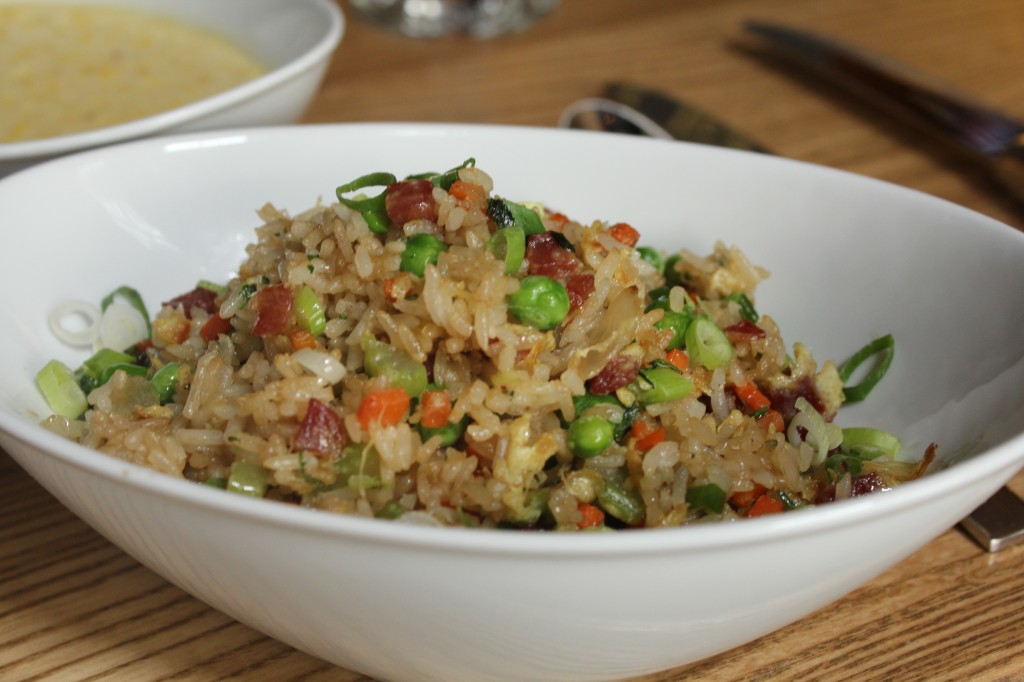 Lap Cheong is a Chinese sausage. It's not just pork fried rice. This one had more of a crispy consistency than the fried rice you're likely used to. There were two other sides served, but this one was the standout (Garlic Mashed Potatoes and Creamed Corn just don't photograph like a nice mound of fried rice).
I jumped off the linear nature of this blog post to segue from Joel's thoughts on menu items to an example thereof, but we're back on track here with the Half-Roasted Bone Marrow: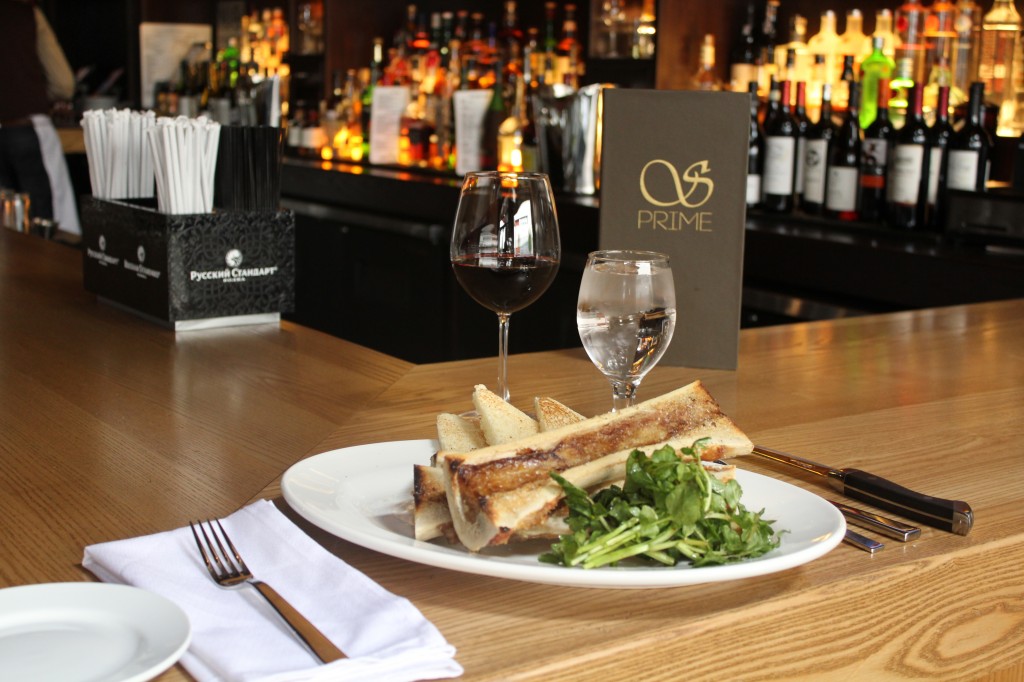 You know you guys nut over some bone marrow. That appetizer is $14. That's a solid deal if you ask me. Look at all that marrow? On this one, you're gonna need more bread. I was half finished with one bone of marrow and done with two toast points already. Don't worry, they'll bring you more if you ask.
Now for the big guns – The 28 Ounce 28 Day Ribeye: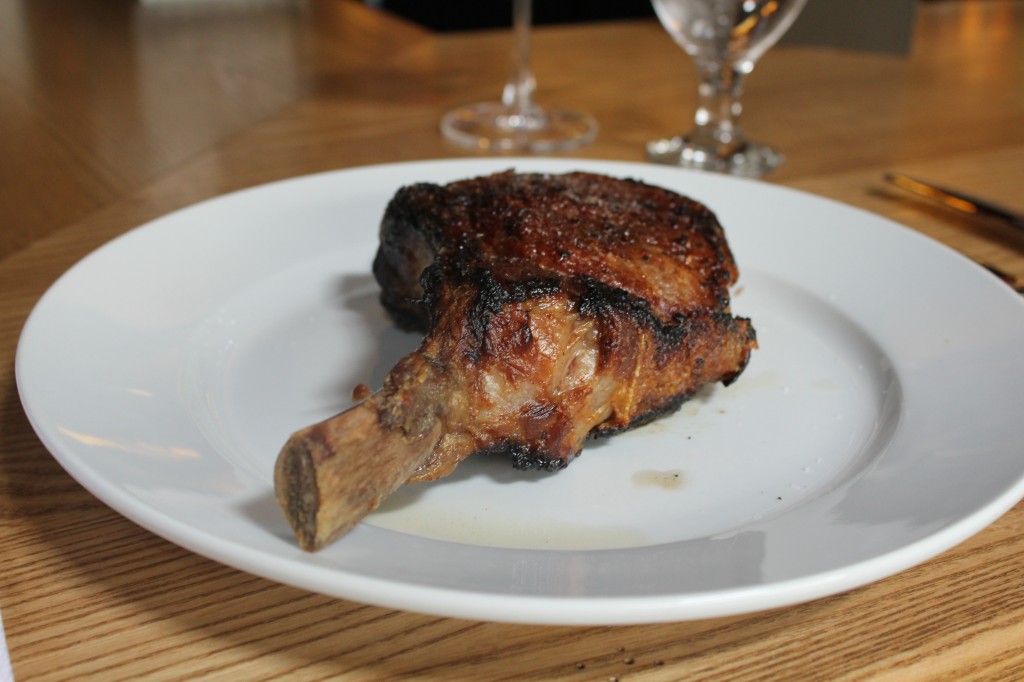 and the money shot: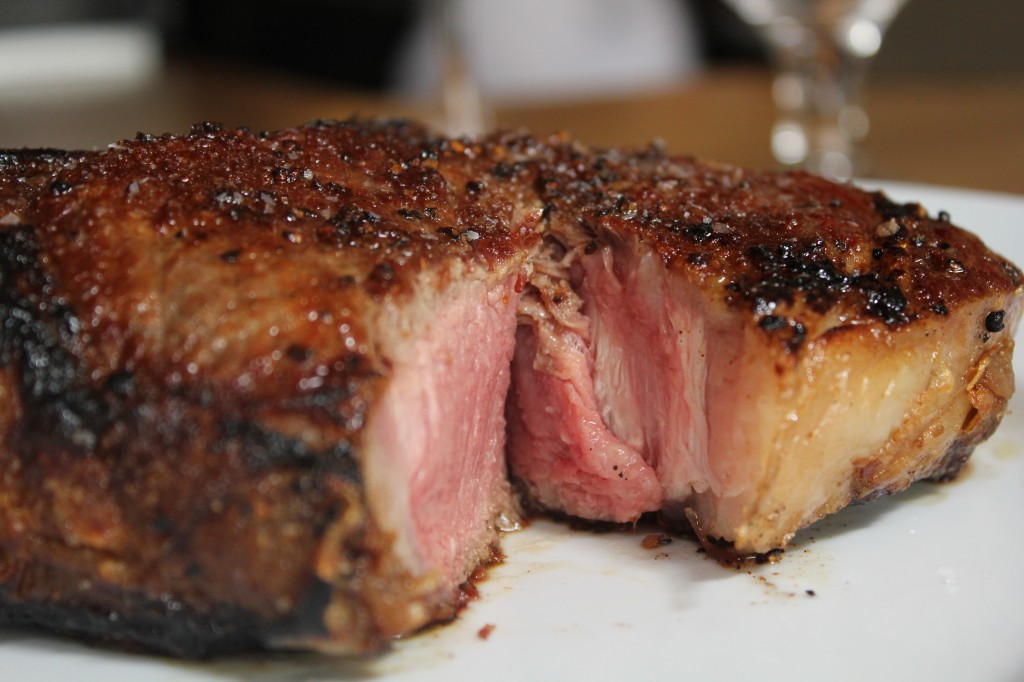 You gotta click that shot open for me, please. Please just do that. It's glorious on my 27′ Mac's screen. I want to eat it all over again.
Joel had the kitchen do me up a second round of the main course from their 'Surf' Section, the Yellowtail Tuna: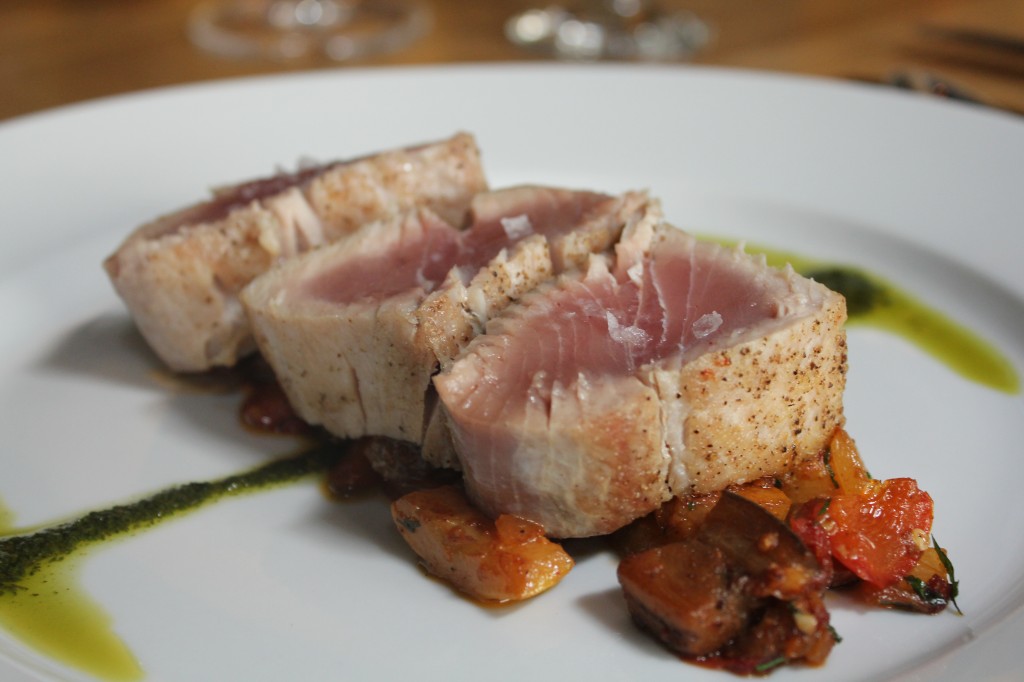 As pretty as the steak is to photograph, Tuna is prettier. I love the contrast between the white, seared edges of the steak and the raw, pink insides. The sea salt was a nice touch as well. The Tuna was on a bed of ratatouille and pesto and I only got through a few bites before I was COMPLETELY full.
Or was I? The Creme Brulée Trio came out…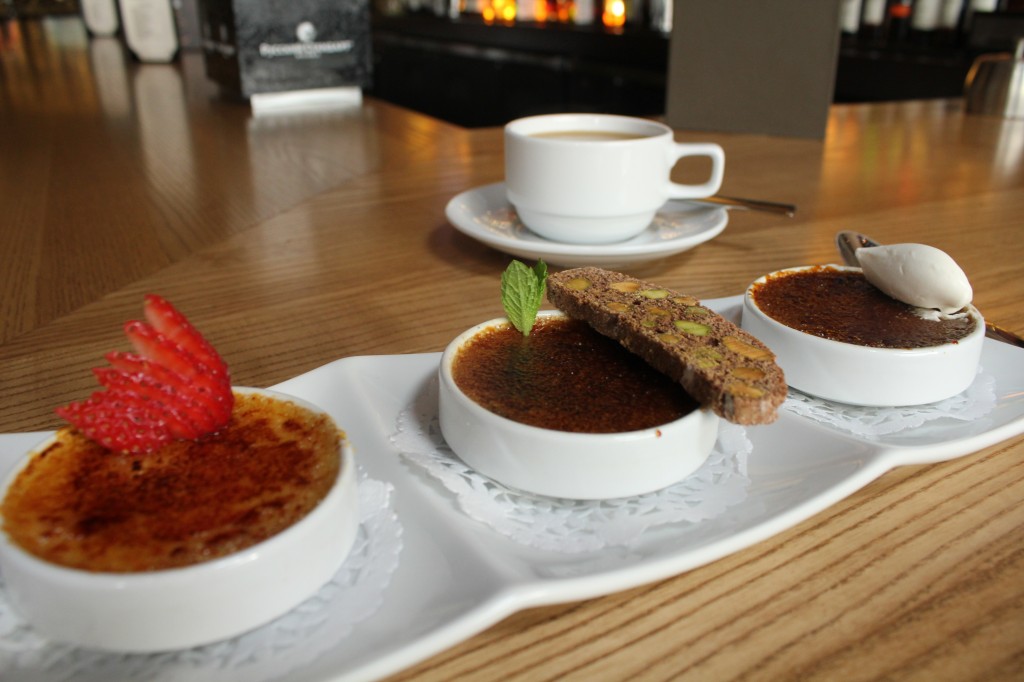 Joel is going to switch these up seasonally, but right now, they're Vanilla, Earl Grey Tea (worked really nicely with that mint sprig), and Chocolate. They're all available individually, but I suggest having them all.
I had a small bite of each and we invited the hostess to try some.
"I don't know if I can eat that – I might be allergic." she said.
I can't imagine going through life thinking that! I guess I am just lucky as far as not being allergic to a lot of things. Warning: this blog post contains peanuts.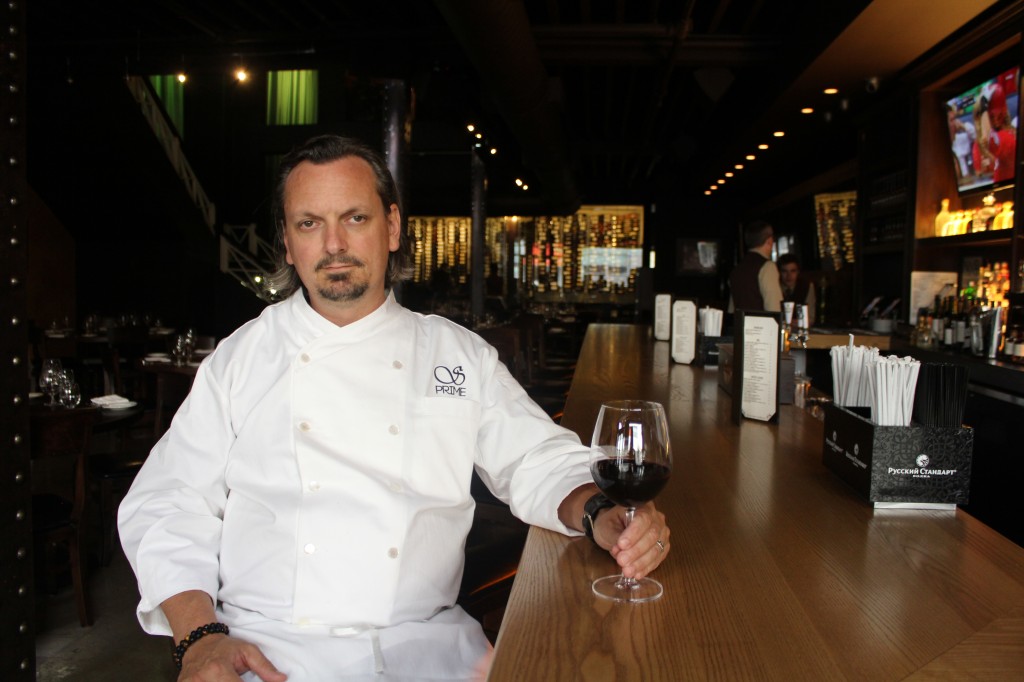 Thanks again to Joel and his staff for the wonderful time I had in Astoria. If you're around, make sure to stop by for a few beers at Studio Square and cap the night off with a giant ribeye at S Prime.
Hagan Blount was not compensated for this post but was provided the food at no charge
S Prime Steakhouse
3515 36th St
Astoria, NY 11106
(718) 707-0660