2010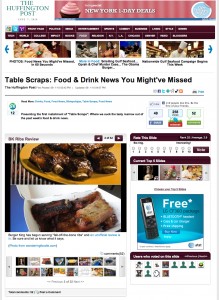 I cooked for Michelin Chefs and Eater loved my food the best (Sarah Simmons prepped it and I cooked the Shrimp and Grits). Just an Online Minute highlights my true Wandering Foodiness
I won a bunch of appliances from Sears, they flew me and a friend out to Chicago, and I judged the Sears Chef Challenge!
The good people of Food News Journal rock out with their hocks out and give me props for defending Guy Fieri
Kelly of Just an Online Minute doesn't love me, she just loves my Prairie-Doggie style (at least we think, we think it's a prairie dog)
Not really press, but this was a press event where I hung out with Stew Leonard Jr. for a bit. His daughter's wine is legit.
National Public Radio knows that the two-second time delay is essential for sexy low-light still-life capture with a point and shoot. Here's the audio
The Huffington Post helps make the Burger King Ribs entry The Foodie's hottest story of 2010
The Food News Journal is first on board The Foodie's Burger King Ribs bandwagon
Often imitated; never duplicated. GrubStreet reports on other 93 Plates-like projects
It's Meyer vs. Meyer in the final of Restaurant Madness NYC on Eater
Eater NYC comes down with a case of the MaDnEsS!
The MaDnEsS is spreading! NBC New York contracts the virus
New York Mag sends out an invitation to the 93 Plates wrap party
Zach from Midtown Lunch food tours with The Foodie
For 93 Plates, I was featured on:
Zachary Adam Cohen
Thursday Night Smackdown
The Pink Pig
The Wandering Eater (twice)
High/Low Food/Drink (three times)
Chubby Chinese Girl (twice)
Jeffrey Tastes (twice)
The Diva That Ate New York (twice)
Food Mayhem (three times)
The Eaten Path (twice)
Local Appetite
Foodiggity
Yacht Log Yacht Blog
Plate of the Day (twice)
Blondie and Brownie (twice)
Taxi Gourmet
Eating In Translation (twice)
Economy Bites
Savory Bites (twice)
Clay Spoon
Goodies First
The Feisty Foodie (twice)
The Foodista
Fresh, Local, and Best (twice)
Eat Brooklyn Food
Spa Week Daily
Amy Blogs Chow
What I Made For Dinner
Nancy Matsumoto
Food In Mouth
$30 A Week
Cupcakes Take The Cake
The Roving Gastronome
A Little Bit Of Christo
Edible Queens
NYC Foodie
Chugging Veuve
WineChap
Non-Adventures of an Amateur
and Dolce In New York
2009
The Wall Street Journal, Mashable, the Christian Science Monitor, and El País pick up the first Ebay auction for Google Wave (Hey, I'll take it any way I can get it!)
Backing up Jaime Foxx on NBC Washington
Trying to crack down on my time at The DCist
Bucking the slimming trend at The Washington Business Journal
Full interview on Capital Spice
2006
Stayin' Alive on WUSA 9 in DC