This update spans two separate stints in Lima – one pre-Machu with the family and one post-Machu with food poisoning. I even have the picture of the place that gave me the food poisoning. It was fried chicken livers and a salad, but it couldn't have been the chicken livers. You know they always tell you to make sure your food is cooked down here… that is a rule I have not abided by thus far. Even after the issues, I just like salad too much to stop eating it.
To the right is somewhere in downtown Lima. We had a half day tour of Lima that brought us through some expensive parts of the city, drove by some unimpressive ruins (the size of a few football fields right in the middle of a residential area), the Plaza de Armas, and two churches. All of the squares down here are a lot prettier at night – they really highlight the architecture with lighting well. Do I have a picture of that in this blog post? Â Uhh, no.
These guys are ready for la revolucion. My tour guide told me I shouls ask to take their picture, and I am guessing they get this request a lot. They were all over the Plaza De Armas – the capital area of Lima. Dissimilar to the equipment carried around by Americans in D.C. only by technological function.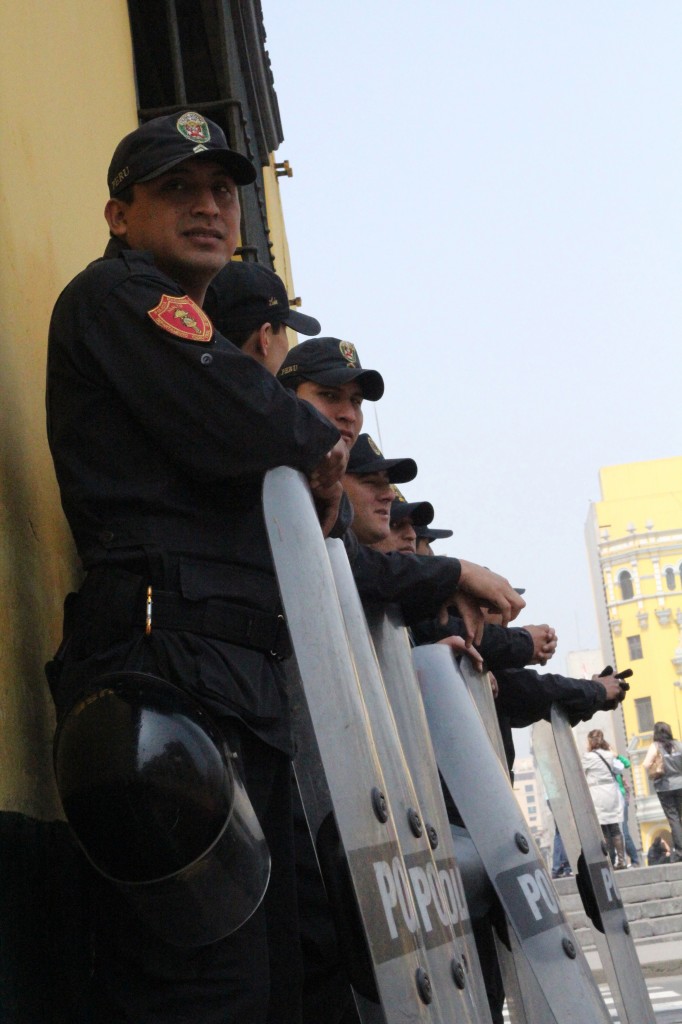 I used to have a dream that I could get a unimog camper and go off road and make some kind of web series about it. Â If I could get my hands on one of these cheap, I think retrofitting it would be half the fun.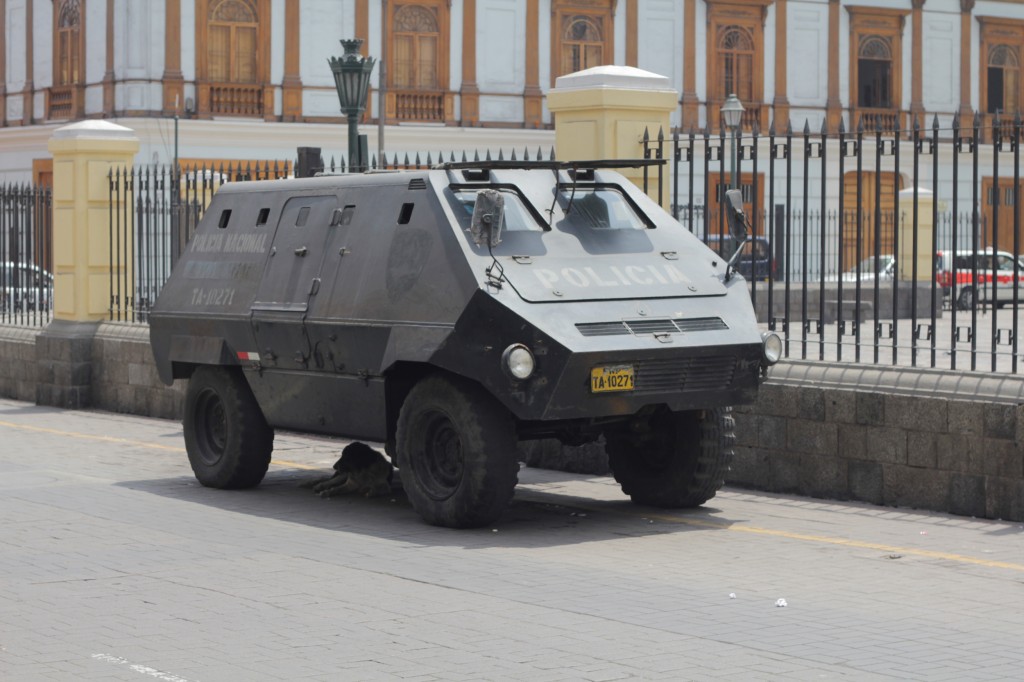 The updraft coming off the Pacific up the cliffs in Miraflores makes it so these  guys can fly all day if they want.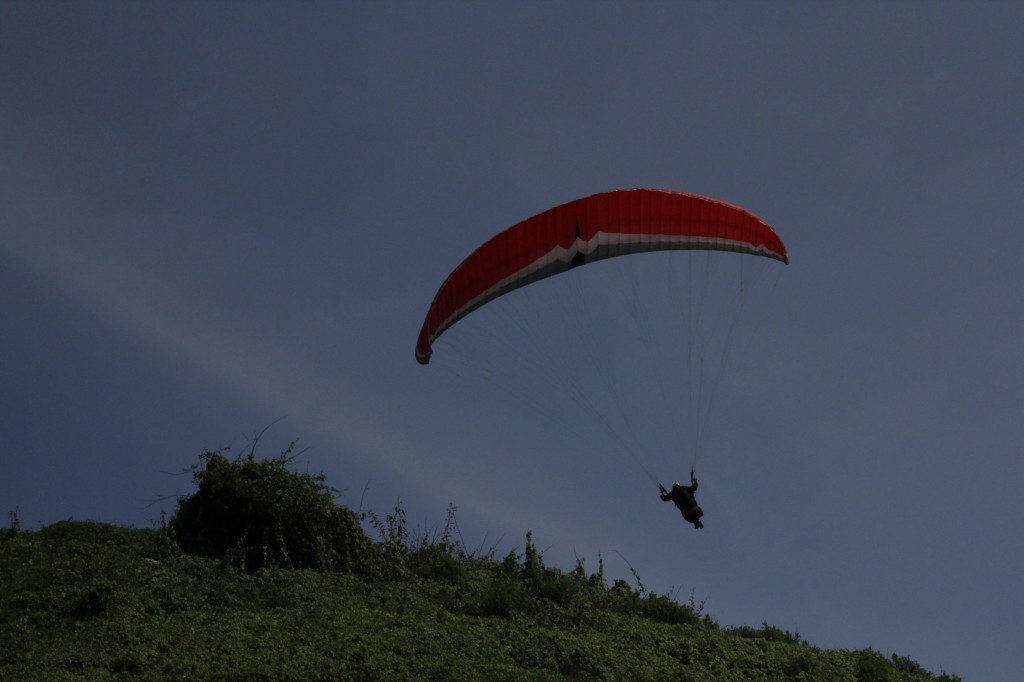 Then we took a nap at the hotel and got some food (the food post is coming up) and then we went out and sang some Karaoke. Â I think my dad did My Way.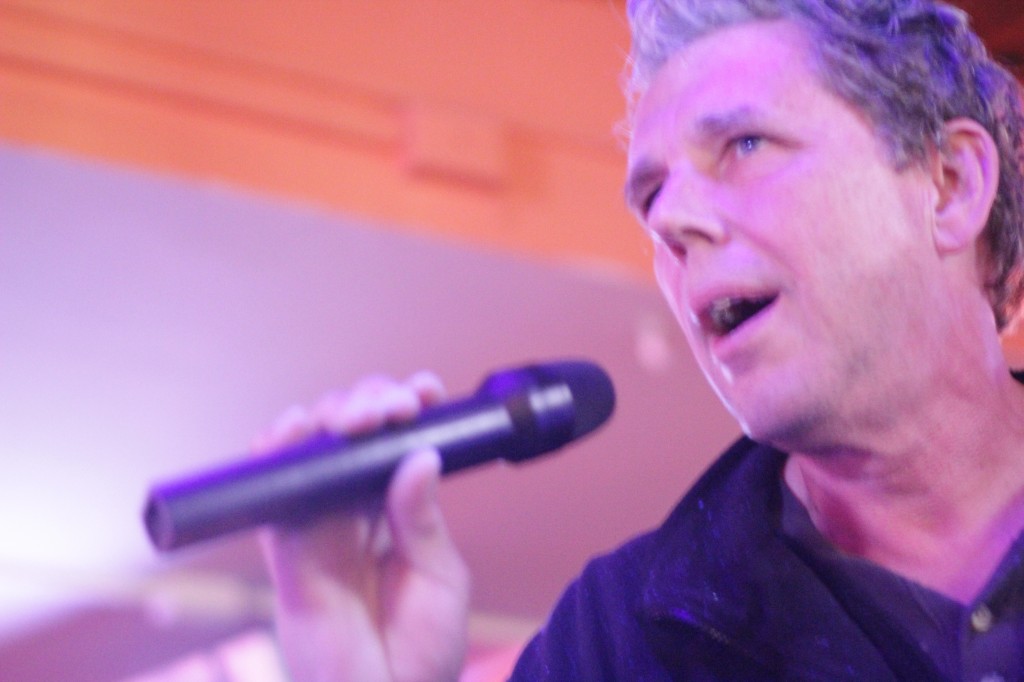 My brother did Careless Whispers, I was going to do Faith, but was waffling a little bit on it, and when my brother took this classic, I had to do something different. Â I completely forget what I sang, but I didn't have the range for it. Â  Tim is awesome at karaoke – he completely rocked it.
I didn't do so well on the song, but I think I won them over with the dancing.
And then here we are a week later, getting food poisoning. Â The girls were really surprised to see me eat the chicken livers. Â I doubt many gringos come here – about five blocks in the wrong direction from the bus station in Lima. Â God, I was happy to be off that bus. Â Little did I know that I was going to be doing a lot more sitting over the next few days.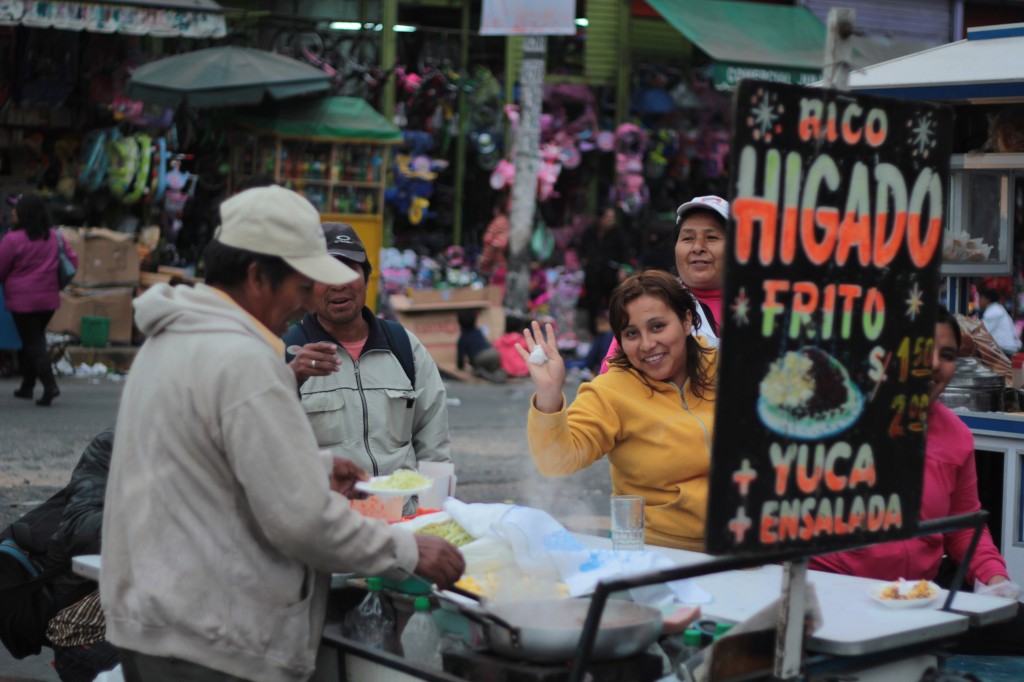 Before I felt the effects of the insalata, I was pretty pumped about my accommodations.  The walk to bathroom was approximately half a kilometer, and I had to do a few times an hour.  Looking at my watch, I was pumped when 40 minutes had passed before my last trip.  It snuck up on me once overnight, and I ran to the window and inadvertently puked on a dog.  I had no strength to laugh at this.  I'm now laughing with a pouty face thinking of the moment; guilty but still aware of the comedic value.
I forget what this church is, but here's the library inside in which they don't allow pictures.
Two days later and I am back outdoors. Â I learned that hotel I was staying at was hourly. Â In the room sleeping and waiting for my next trip to the bathroom, it sounded like this:
Door closes
Flirty voices and laughing
Silence
Belt falling on the floor
Utter silence for 20 minutes
More flirty laughing
Shower turns on (flirty laughing continues in the shower)
Door opens
It happened three times that day.
More architecture.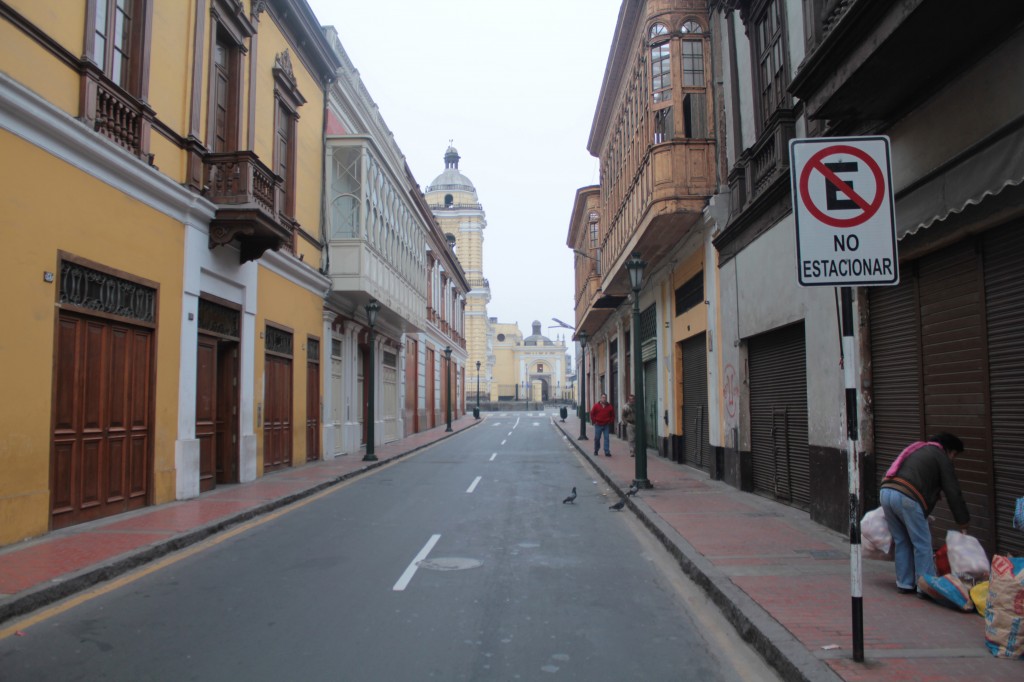 And aside from food, that was my Lima experience. Â Next post, Food in Lima, Peru.