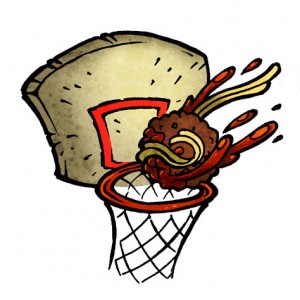 So what is all this about NYC's RESTAURANT MADNESS?
If you saw the Restaurant Madness tournament page and haven't been living in Siberia for the last 20 years, you know this is the time of year when people fill out brackets, root for the underdog, and take looong lunches to watch their alma maters (or whoever they have going all the way to the dance) battle through 64 (don't forget team irrelevant in the play-in game) other teams for NCAA Basketball supremacy. Basically, we're doing that here, except with restaurants, and instead of points and scoring, you vote for the winner. In case you need a clearer picture, let me break it down for you:
☞ The restaurants were hand-picked by some of your favorite food writers in NYC
☞ These restaurants are competing for the title of the crowd's favorite restaurant
☞ It's your job to vote on each of the matches to determine the winner (vote only once please)
☞ You predict the winners of each matchup (by filling out and returning this Excel sheet) and can win prizes for the most correct picks
And even if you don't want to submit a sheet, you can still vote for whatever restaurant you'd like. I'm also going to give one of the prizes away for retweets, so remember to include @H18 in all your madness-related twitter.
Come on. There's no way I could have gone to all these restaurants … How do I make an educated decision?
Have you heard some awesome things about one of the places and have been really excited to go? Have you walked by and wanted to try it? Have you had a bad experience at the competitor? Did someone leave the most hilarious comment on the restaurant's Yelp profile? Did you make out with one of the waitresses who works at Al Di La? Do you think Zabb Zabb is a cool name for a restaurant? Whatever your reasoning, just have fun and pick. None of the restaurants paid anything to be a part of this and nobody's feelings are going to be hurt if you haven't been able to deal with the line at Shake Shack or the 7 train all the way out to Xi'an Famous Foods, but you can vote for/against them anyway. All voting is anonymous anyway, so go crazy.
Why should I submit a bracket?
Because it's fun, or you like competition, or maybe you'd like to feel like you're a part of something … You probably aren't going to win your office pool, so you might as well have a chance at picking some winners here. Plus, you can vote, so if you have enough friends, you may be able to influence the results. Or maybe you are interested in the prizes …
I haven't figured out exactly how I'm going to distribute them, but here are some of the prizes that are going to be given away to the winners of Restaurant Madness:
Three $50 gift certificates to Dive Bar NYC – Home of the World's largest Muffaletta and the greatest selection of beers crafted by NYC home brewers!
Four $50 gift certificates for Groupons where each of these gift certificates are actually worth $100 or more in local products and services!
A Tuna Flight from 15 East ($75 value) – If everyone had a Tuna Flight, the world would be a much better place
Sea Urchin Carbonara and a Riesling at Tocqueville– Amazing all-around dining experience. The sommelier is killer here
Dinner for two at Burger Joint – Best cost to tastiness factor for burgers in NYC
And the Grand Prize (unless someone has a car or an iPad they wanna comp me): $250 towards as many Groupons as you can buy courtesy of Groupon
When do I have to have my picks in by?
SUNDAY the 21st at 5:00 PM!
How many people am I competing against?
I'm limiting it to 500. I have to copy and paste the data into an Excel sheet to track the scores, and that's frickin' tedious. I'm considering outsourcing this to India.
Who do you like in the tourney?
I have a friend in DC who was on the Jayhawks practice squad, so I like rooting for Kansas – he always gets pumped around this time of year. I think it would be really interesting to see Boeheim vs. Krzyzewski. They're certainly two of the greatest developers of talent in our time. But if I had to choose, I'd have to go with Katz's Deli …
What, they're not on the list? Peter Luger's then … No PL? OK … Sripraphai … No dice there either?
These aren't the crowd favorite, they're the critic favorite. It's my hope that you see a few of these selections, do a bit of research, and check someplace new out. Get out there and discover new stuff! Go find your own ultimate meal!
Many thanks to:
Joe DiStefano of World's Fare
Lawrence Weibman of NYC Food Guy
Gabrielle Langholtz of Edible Brooklyn and
Andy Freedman of Wined and Dined
for their contributions to the project!
Good luck to everyone!