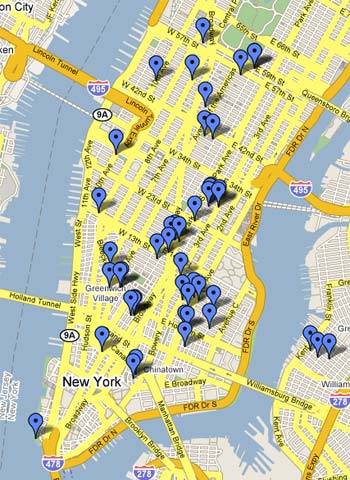 I came back from a buddhist retreat earlier this year and learned a lot about myself, the most important thing being that life is too short to not do what you love. If you're the intended audience for this message, you follow the mantra: "Don't ask yourself what the world needs – ask yourself what makes you come alive, and then go do it, because what the world needs is people who have come alive." You've been making it there (and by postulate, could be making it anywhere) and still found time to pursue your true passion; the creation and appreciation of fine food.
It is out of this love for fine dining that 93 Plates was born. January has thirty-one days; we try to eat three meals a day; over the course of the month, we'll all eat ninety-three meals (maybe we'll only make dinner on New Year's Day, but I digress). The idea for 93 Plates NYC sprung from my two prior marathon restaurant projects: 24 in 24 Boston and DC. It's something fun, something novel, something unusual that will bring together more people who share the same passions I do, hopefully bringing together some of those who may have been admirers of each other's work who've never actually met in real life.
I just started reaching out to New York City based food writers and have been well received. Here are a few of the bloggers who are excited about the project and will be coming along for the ride:
Zachary Cohen @ Farm to Table
Tina Wong @ The Wandering Eater
Simon Dang @ Plate Of The Day
Michelle Joni Lapidos @ Spa Week Daily
Lauren Soutiere @ East Village Kitchen
Kathy YL Chan @ A Passion For Food
Jessica Binder @ Food Mayhem
Lindsay Nixon @ Happy Herbivore
Mike Lieberman @ Urban Organic Gardener
Adriana Velez @ Brooklyn Food Coalition
Jen Bernstein @ Local Appetite
Krista Garcia @ Goodies First
Chris Durso @ Foodiggity
Melissa Sands @ Fork This
Florie @ Dolce In New York
Christine Kim @ Fresh, Local, and Best
Layne Mosler @ Taxi Gourmet
James Boo @ The Eaten Path
Wilfrid @ The Pink Pig
Divya Gugnani @ Behind The Burner
Josh Beckerman @ NYC Foodie
Jean Ann Van Krevelen @ Gardener to Farmer
Jeffrey Chin @ Foodgasm
Jenny Miller @ Various NYC Food Blogs
Amy Cao @ Amy Blogs Chow
Eat It Brooklyn @ Eat Brooklyn Food
Zach Brooks Midtown Lunch
Dan Delaney @ Vendr TV
Andrea & Jeff @ High/Low, Food/Drink
Cindy Zhou @ Chubby Chinese Girl
Allie Schwartz @ Economy Bites
Dave Cook @ Eating In Translation
Amy & Jonny @ We Are Never Full
Danny @ Food In Mouth
Yvo Sin @ Feisty Foodie
Tina & Phil @ $30 A Week
Mike @ Man Eat Food
Marc Masumoto @ No Recipes
Judith Klein Rich @ Foodista
Jessie Yoh @ Savory Bites
Jeff Orlick @ Jeffrey Tastes
Meg Cotner @ Joey in Astoria
Lisa Fain @ Homesick Texan
Steve Shaw @ EGullet.org
Jackie Gordon @ The Diva That Ate New York
David Fishman @ Fishman Foodie
Michelle Weber @ Thursday Night Smackdown
Siobhan & Alex @ Blondie & Brownie
Stephane Lemagnen @ Zen Can Cook
Liza de Guia @ Food Curated
Lawrence Weibman @ NYC Food Guy
Kathryn Liverani @ Cooking Inside The Box
Nick & Theo @ The Food Experiments
They're all joining me for a meal (or three) and my sponsors and I are taking care of the bill. Here's a link to what the write-ups are going to look like (I had lunch at Jean Georges with Steve Dublanica of Waiter Rant). Needless to say, I am looking forward to meeting all these awesome writers (not to mention photographers) that are excited about life and making the most of NYC. As a bonus, on the last day of the project (a Sunday) I'm going to have the restaurant issue a super discounted menu for the writers that participated on the project. It will be like a meet and greet of sorts for the who's who of food blogging in NYC. I'm sure you've met some people on the list and simply admired others from afar; this should be the perfect opportunity to turn the rest of those online acquaintances into friends.
If you're an NYC food writer and are interested in getting in on the project, let me know. You can feel free to write about the experience on your site afterwards or skip it and just come along for the conversation. Either way, shoot me an e-mail at Hagan (@) WanderingFoodie.com or call me at (949) 4-FOODIE (436-6343) and we can set something up; I'm always happy to talk to someone who lives to eat.