As far as I can tell, this is the first official review of these abominations online. I don't even know why I'm showing you a picture of the inside of a Burger King, it's not like this is something that changes a lot or is quite aesthetically pleasing; it's a Burger king in the middle of a city block in NYC, and they all look pretty much the same.
To start, they're half ribs, not ribs. When you order six, you're really getting three. They give you the option to order three for $1.99 when you order a value meal, but they're $2.97 if you want to buy three alone, but that means you're only getting one and a half ribs. A full order of six BK ribs (three whole ribs) is going to run you $5.69. Plus tax, it came to $6.19. I felt like Chris Rock in I'm Gonna Git You Sucka:
When I walked in, this was the sign plastered on window outside:
I guess they're anti-food blogger? I was pretty careful about not flashing the camera in front of the management, but the regular employees couldn't care less about what I was shooting. There was a cashier right below this shot of the rib promo, silent the entire time I was flouting their photography restrictions. Pretty much exactly the level of responsibility and commitment to values that you'd expect from minimum wage workers, and honestly, if I'd been in the same situation, I wouldn't have acted any differently. Tell you what; if I'm ever taking orders behind the counter of a Burger King, and I'm not the owner of its holding company or haven't been stricken with some brain disease limiting normal function, you have the right to strangle me with my headset on the spot. That's an open invitation.
Here's the official rib box:
As far as barbecue sauces go, I'm a fan of the BK BBQ. It's pretty good. I'll have to admit that I'm not such a connoisseur of barbecue sauces, but I like this stuff. I also prefer my ribs a little on the drier side (the exterior, not the interior), so it was nice that they gave you the dipping option instead of slathering the sauce on as the picture indicates.
Here are the new ribs, styled and unstyled: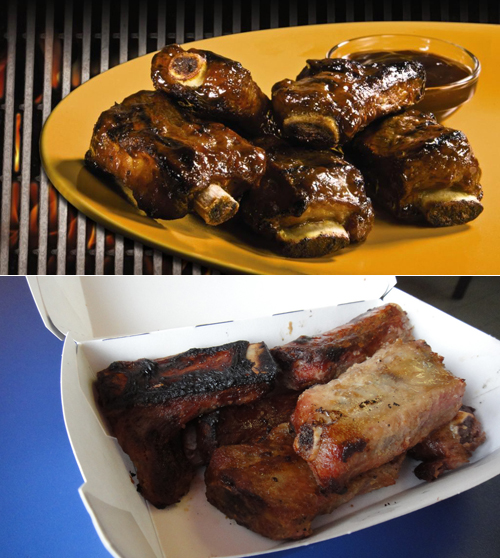 And here's an excerpt from the press release:
Fall-off-the-bone ribs and summer go hand-in-hand

"Fall-off-the-bone" isn't necessarily a good thing. How does the general public not know this?

and now we are excited to be the first national fast food hamburger restaurant to offer our guests an authentic bone-in rib menu offering

You start to wonder why this industry has been around for almost 75 years and Burger King is the first to unveil this product and stop wondering at the first bite. It's not like this idea doesn't end up on the cutting room floor at Mickey D's every time a new intern arrives. Have any of you Burger King execs ever read "Good to Great?" No one is going to get this. Fuck.

Our guests' initial reaction to this product has exceeded our expectations,

Were your expectations extreme shock? Disbelief? Confusion? You fucking nailed it. On a scale of one to what-the-fuck, this one is like a Scooby Doo BOORT!?

further validating the Burger King system's investment in our new game-changing broiler.

How much did you really invest here? You haven't even rolled it out nationally? I haven't seen a commercial for them yet. And you can't include "Game Changing" in your press release unless you're talking about an iPad or a Segway (remember that hype? Ridiculous). Fast Casual has been around for quite a while; putting ribs in your coke-machine doesn't change anything.

Because of this proprietary cooking technology

It's called "Broiling." There was no new machine installed for the ribs. At least, that's what the lackey said.

we've been able to up the ante in our product development across the board, and BK(TM) Fire-Grilled Ribs are just the beginning of the innovative product line we can offer with this new cooking platform.

Innovative cooking platform? So the lackey was wrong? I decided to do some research and went onto Burger King's Corporate site. I called BK Consumer Relations at (305) 378-3535 – Here's that conversation. Then I called BK Media Relations at (305) 378-7277 and here's that conversation. Before I finished uploading these convos, Ashley from BK Media Relations got back to me, telling me someone else would be getting back to me, so I have to give them a bit of props there.
But I have to revoke the props. Their Twitter presence is fucking horrible. Try to find their Twitter account. Go ahead; try. I couldn't find it. Here's @McDonalds and here's @BurgerKing. They don't even own it. Not like they couldn't pay this guy $10,000 to give up the rights to that name and then have a corporate identity on the platform going forward. Why the hell hasn't this happened already? They're idiots.
So to talk about the actual taste of the rib – it wasn't awful, it just wasn't great. There was a bit of smokiness and one had some char on it that was nice, but it seemed like the outlier, and that one happened to have the least meat on it. The consistency of my first bite was a bit mealy. You could tell they'd been frozen and thawed. The bone to meat ratio was way off. No self-respecting rib place establishment would stand for this cut of rib; the ratio is more like a ghetto Chinese joint's rib special. You're not getting a whole lot of meat here.
And what the fuck is this:
How is the muscle separating from itself? That's not supposed to happen. I just finished reading The Omnivore's Dilemma, and I have no doubt in my mind this happened because of the drugs injected into this poor pig before it was served to me. You can really see how tiny these motherfuckers are in this picture. My thumbs are not gigantic, they just appear that way in the picture.
But seriously folks. What'd you think was going to happen? You thought these were going to be awesome? Tasty? Thick and juicy? C'mon son.
This is Burger King, and they're test marketing ribs.
UPDATE – Here's the BK Ribs commercial:
Burger King
Everywhere
The World
(305) 378-3000