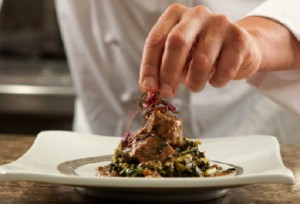 You don't necessarily have to skim a copy of Chef Bourdain's Kitchen Confidential to understand the heavy pressures and competition that pervade the restaurant world. Providing good food on good time is a chore unto itself- and the weight of it all has been the bane of more than one good restaurant or one team of professional chefs. Swift preparation and superior results are much harder to provide at the same time than most would like, and any combination thereof is a fine balance to achieve.
That being said, an age-old problem often requires a more innovative solution. Providing fresh meals that bear flavor and texture is often difficult unless some of the preparation occurs even before the literal kitchen prep starts. Eschewing much of the lengthier processes that go into tenderizing meat or instilling flavor, sous-vide meals undergo sealing in their sauces and ingredients even before they begin restaurant prep. First developed in the 1970s as a means of preserving meats in a way that was more sensitive to their quality than flash-freezing, sous-vide preparation has quickly caught on with top-line restaurants and catering companies worldwide.
Looking for a superb lamb dish that's succulent even before intensive preparation? Something as tender as lamb Osso Buco can be sealed beforehand in a mix of legumes and, veal stock, and white wine sauce and prepared immediately in the kitchen. Even if you're under a less pressed schedule, or have more room to balance your prep time, employing a slow cooker is a superb way to make sure that your sous-vide dishes are prepared with finesse.
Even beyond beef or lamb, sous-vide is a reliable way of preparing rich white meat dishes as well. Considering how sensitive to sauce and flavor chicken can be, sous-vide sealing is a great way to prepare poultry beforehand with a whole spread of spices and tastes. Fish is no different, and even something as hearty as Seafood Cioppino can be infused with a rich complexion before it hits the kitchen.
Editor's Note – Consideration for this post provided by CuisineSolutions.com