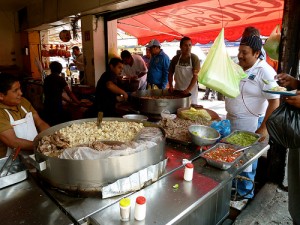 Mexico is a great place for anyone who loves all things food, and by anyone, I mean me and probably you, since you're visiting my site! With classic, high-flavor dishes like chili con carne, carnitas and enchiladas, all of which are deliciously varied, you'd be hard pressed not to find something to your tastes.
Once you've booked your Mexico holidays, you might be interested in trying out a food tour – can't think of many things I'd rather do actually! There's a huge street food culture in Mexico and there are several operators offering specific tours of the best street food outlets. There's generally quite a lot of walking involved, but this can only be a good thing in terms of digesting the veritable feast of food you'll be trying. I also like the idea of getting to know the area you're staying in on foot; you can check out the architecture, soak up the sun and enjoy the hustle and bustle of the streets like a local.
Quesadillas and tacos feature heavily in the street food scene and are a great way to introduce yourself to the culture during your holiday in Mexico. Many tour operators offer an insight into the ways in which the different foods were invented, which is a really neat way to take in some culture. It can also be quite inspiring in terms of your own cooking when you get back home. I find Mexican food really quick and easy to make, while at the same time it tastes great and generally pretty healthy. It's a good go to food, especially if you have kids – there's a lot of fun to be had in crafting your own fajitas, regardless of your age range!
And the fun doesn't end with savory dishes. While you're touring, you really have to try a Mexican hot chocolate. Basically it's a thick slab of rich, creamy chocolate to be dissolved in milk or water (personally I'd go for milk, but I'm very indulgent!). I like Ibarra myself, though there are several different ones to choose from. Boxes of these make for great gifts to take home.
If you do think you'd like to have something of a Mexican theme night when your trip is over, I'd recommend taking a bottle of mescal. The rich, smoky flavor is great after a meal. This one's just for the adults though since the alcohol proof can reach 55%!
Guest post contributed by Thomson.co.uk
Picture credit to Carlos Van Vegas and Stephen DePolo